SYDNEY : Asian shares slid and the dollar rose on Monday as investors hunkered down for U.S. inflation data that could jolt the outlook for interest rates globally, while accelerating o rreversing the recent spike in bond yields.
An air of geopolitical mystery
was added by news the U.S air force had shot down a flying object near the Canadian border, the fourth object downed this month.
Officials declined to say whether it resembled the large white Chinese balloon that was shot down earlier this month.
In any case, it provided an extra excuse for caution and MSCI's broadest index of Asia-Pacific shares outside Japan shed 0.7 per cent, after losing 2.2 per cent last week.
Japan's Nikkei fell 1.2 per cent, and South Korea 1.0 per cent. Chinese blue chips nudged up 0.1 per cent aided by strong data on bank lending.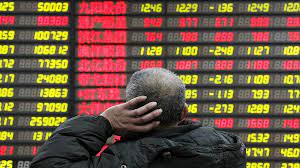 EUROSTOXX 50 futures fell 0.1 per cent, as did FTSE futures. S&P 500 futures were off 0.4 per cent, while Nasdaq futures eased 0.5 per cent.
The near-term direction for assets could well be determined by U.S. data on consumer prices and retail sales this week, with much resting on whether inflation continued to slow in January.
Median forecasts are for headline and core consumer prices to rise 0.4 per cent for the month, with sales rebounding by 1.6 per cent.
Risks could be to the upside given a re-analysis of seasonal factors released last week saw upward revisions to CPI in December and November. That lifted core inflation on a three-month annualised basis to 4.3 per cent, from 3.1 per cent.
There were also changes to the weightings for shelter costs and used car prices which might bias the CPI higher.
Bruce Kasman, head of economic analysis at JPMorgan, expects core CPI to rise 0.5 per cent and sales to jump 2.2 per cent, underlining the message of resilience from the bumper January payrolls report.
"Developed market labor markets have tightened in recent months against our expectations of easing," says Kasman.
Source: Reuters